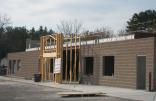 It was a pleasure having your masonry crew on our latest jobs. The quality of the masonry is outstanding. The personabilty of your men is very professional and extremely easy to work with. Thank you for your services!            

Frank Gauger / Superintendent

Harmony Construction & Management Inc.-

N157 County Rd F

Montello, WI 53949

Office Hours:

Monday - Friday 7:00 a.m. to 5:30 p.m.

Phone: (608) 297-8663

Cell: (608) 225-4053

Fax: (608) 297-8823